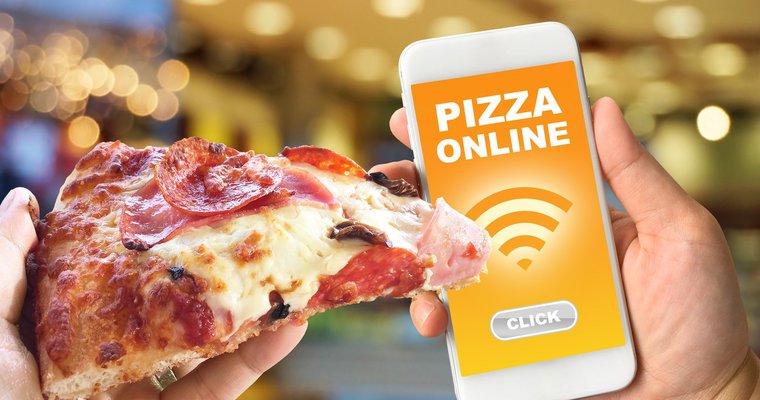 How to order a pizza in Arabic?
In this lesson, you will learn how to order a pizza in Arabic
Hi! I'd like to order a pizza, please.
salamu 3aleikom, law sma7t ana 3ayez atlob bizza
سلام عليكم, لو سمحت أنا عايز اطلب بينزا
Okay. Can I have your name and address, please?
wa3leikom e'salam, momken t2oly esm 7adretak, w'el 3enwan min fadlak?
وعليكم السلام, ممكن تقوللي اسم حضرتك والعنوان من فضلك؟
my name's ...
esmy .....
اسمي ...
My address is ..... Street
we'l 3enwan share3 ..... racam .....
والعنوان شارع ..... ر قم,,,,,
What can I get for ya?
tamam, 7adretak T7eb TTlob eih?
تمام حضرتك تحب تطلب ايه؟
I think that we'd like just one large pizza. Um, half tuna, and then half pepperoni. Can you guys do that
ana 3ayez bizza large, nos tuna we nos bebarony, momken atlob noseen sa7?
أنا عايز بيتزا لارج, نص تونة ونص بيبيروني, ممكن اطلب نصين صح؟
 Sure! Anything to drink?
tab3an, t7eb Tshrab 7aga?
طبعا, حضرتك تحب تشرب حاجة؟
no thanks that's all for now
lah-ah shukran
لا شكرا
Okay. So do you want one like tuna and one pepperoni?
tamam, yb2a 7adretak 3ayez pizza nos tuna, we nos bebaroni, sa7?
تمام يبقى حضرتك عايز بيتزا نص تونة ونص بيبيروني, صح؟
There we go. 100 pounds, and we'll see you in about thirty minutes.
tamam yb2a kol 100 genieh, wenb2a 3andak ba3d nos sa3a inshaAllah
تمام يبقى كله 100 جنيه وهنبقى عندك بعد نص ساعة ان شاء الله
 Thanks a lot!
inshaAllah, shukran
ان شاء الله شكرا
Do you want to learn everything in Arabic"?
Learn Arabic from scratch to advanced and professional levels with 
"The Ultimate Arabic course"
The first project in the world teaches you the Arabic language from scratch to advanced and professional levels.
learn the most common dialects in only one course. Egyptian and Eastern dialects, with native speakers 
Join almost 20000 students in our Arabic courses, and learn real Arabic with intensive courses.
Learn everything in daily Arabic conversation, and start your practicing
Click here to watch the first week for free
If you want to learn Arabic from scratch and looking for a course that could help you achieve your goals in learning this wonderful language, so you are in the right place.